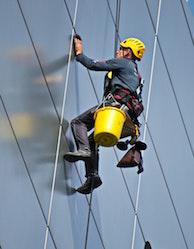 Many of the best window cleaners in the business entered this career path because of the excitement offered in the job. Window washers enjoy the rush of adrenaline from working high above the ground, the ever changing atmosphere when working in different landscapes and job sites, and the uncertainty of working in various weather conditions. But many people who want to become window cleaners are not sure how to get started on this new career path, or even what requirements they will face in their new job.
If you want to become a window cleaner, you should first understand the qualifications you need to have. There are some skills that cannot be trained. For example:
Window washers must enjoy the thrill of heights. If you are afraid of heights, you will not be able to think clearly and make quick decisions when cleaning windows on a high rise building.
Window cleaners need to have a high level of respect for safety standards. Risk taking is not permitted on window cleaning job sites, because one miscalculated risk could lead to serious injuries.
Window cleaners must have a natural ability to pay attention to detail. Every job will require you to use different equipment, and each piece of equipment needs to be inspected carefully before use to avoid accidents and safety hazards.
Window washers also need to enjoy problem solving and facing challenges. In many job scenarios, unexpected challenges will come up that you have not anticipated. For example, the weather may change suddenly, there may be trees blocking your windows, or a piece of equipment may malfunction. You will need to make quick, logical decisions on a daily basis.
If you think you have the natural abilities required to be a window cleaner, you will need to be trained on industry safety standards, how to use each piece of equipment, and how to work in various types of job sites. The International Window Cleaning Association offers basic and advanced courses in all of these areas to ensure you are fully prepared for any window cleaning scenario. In fact, we require our entire team to be IWCA certified because safety and high quality work are our highest priorities.
When you are ready to start looking for window cleaning job opportunities, we recommend you only consider applying to work for window cleaning companies which are IWCA certified. Without this certification, the company cannot guarantee they are up to date on all safety requirements of the industry. Additionally, you should also find an

employer who is a member of the Power Washers of North America, to ensure your company is using top quality industry equipment.
We are always looking for qualified window cleaners to join our team! Please check out our 2018 employment opportunities, or give us a call at 888-535-1440 if you have further questions about how to become a window cleaner.
Follow Us: 
Share: