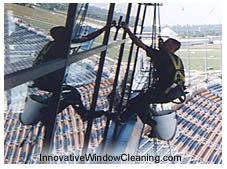 If you are like most in today's economy you want to cut costs but not lose services. That's where we come in. Not only do many facilities need to cut down on costs, many are cutting services all together. There is a better way to reduce expenses when it comes to your window cleaning service, hire us. At Innovative Window Cleaning you get the same, or better quality workmanship but without the high cost of industrial windows cleaning. We have low overhead, we keep our costs low already, so for you we can offer lower prices without lower quality.
How we charge less:
Our largest expense is safety equipment, we have no accidents to date.
With an accident free record our liability insurance is very low.
Our window cleaners take vehicles and equipment home, emergency service ready.
Our business is at your building, we don't need large office space.
We provide window cleaning service to a large area, small pricing adds up.
We don't advertise, all of our business is word of mouth & this site.
No advertising costs means enormous savings on our part. We pass that on to you.
No window washers are inexperienced, so training costs are minimal.
We don't lease or rent equipment like other window cleaning companies.
Owning all of our own equipment means no costs 'getting equipment' to finish the job.
We use high mileage vehicles, keeping transportation costs low.
Downtown Loop, Gold Coast, Streeterville, North Shore, Chicago, Des Plaines, Glenview, Kenilworth, Hinsdale, Addison, Winnetka, Lisle, Palatine, Lake in the Hills, Arlington Heights, Barrington, Barrington Hills, Inverness, Glencoe, Highland Park, Deerfield, Libertyville, Lincolnwood, Skokie, Clarendon Hills, Carol Stream, Palatine, Streamwood, Batavia, Downers Grove, Waukegan, Park Ridge, Evanston, Schaumburg, Arlington Heights, Rolling Meadows, Niles, Oak Brook Terrace, Westmont, Naperville, Aurora, Yorkville, Des Plaines, and dozens more, call us and we will provide more information!
Pricing Structure
Window Cleaning Prices displayed on a Web-site means 'Warning Sign' because there's no way to offer fair pricing to every building owner if everybody pays the same according to window size, etc. Pricing by a real estimate, that costs nothing, is the best way to get the lowest quote possible.
Contact us today and we will have an estimator visit your facility to produce a professional price quote that a guarantee that we will be less than what you are paying now. Nobody offers low-cost window cleaning prices like we do!
Follow Us:  Share: