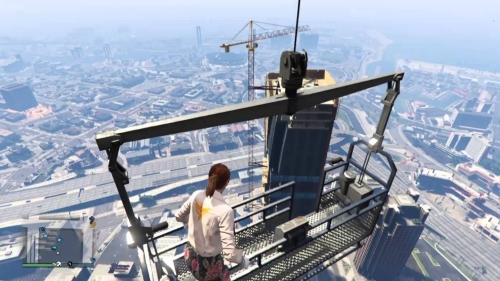 Many of our new clients have questions about how we are actually going to clean their windows, especially if they're located in a traffic-congested area of downtown or have a building surrounded by trees. Every facility is unique, so we employ several different window cleaning methods to make sure our employees (and your property!) stay safe while delivering a high quality clean. Here are some of the most common tools we use to keep your glass squeaky clean:
Water Fed Poles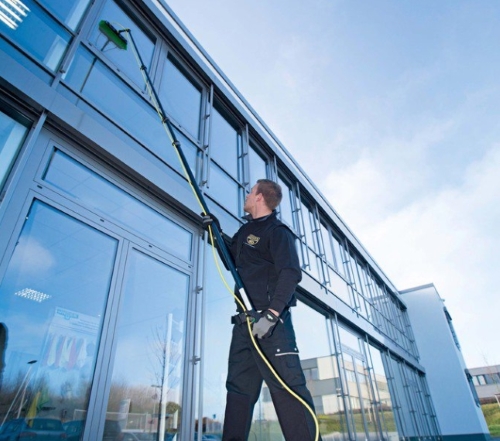 These innovative poles feed purified water from a supply (like our vehicle or a backpack) through a lightweight pole to powerfully spray and wash your windows. No squeegees or chemicals are required with this tool, and it can reach high enough to clean glass on the sixth or seventh floor of your building. Sometimes clients ask how we can get a streak-free clean this way, since windows are left to air dry, but our clean water doesn't contain the impurities that creates the streaky look. The pure water acts like a magnet to dirt already on the window, grabbing and holding it until it flows down to the ground.
Secure Ladders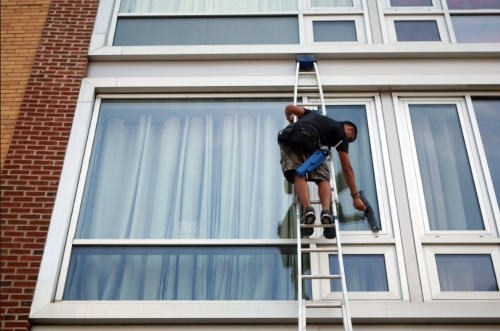 Our leaning ladders securely grip the ground with non-skid rubber feet and can adjust to the height of each client's office space with removable sections. The base section of each ladder flares apart slightly to offer even more stability. Our team members use these ladders to reach high-up windows inside rooms with extremely high ceilings, such as hotel lobbies or convention centers. The ladders are made with light, durable metal so they can be easily broken down and carried into elevators when needed.
Swing Stages, Ground Lifts, and Aerial Platforms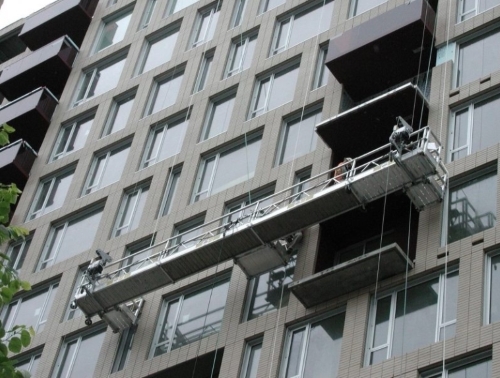 These suspended scaffolding systems allow our employees to walk around railed platforms which can be raised and lowered from the roof. Additionally, our cleaners tie themselves onto anchor points along the way. These platforms can be controlled manually or with electrical motors, and can either be permanently or temporarily installed based on your facility's needs.
Instead of hanging from the roof of a building, supported scaffolding systems stand on the ground below and include sturdy guardrails to prevent falls.
Bosun's Chairs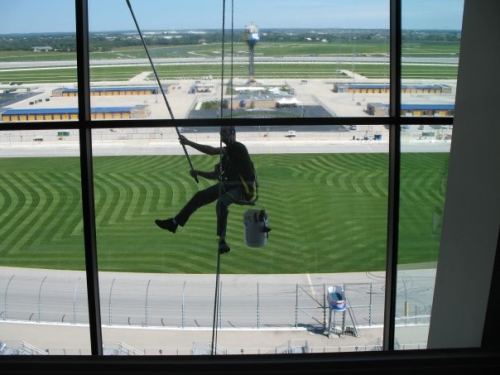 Sometimes called boatswain's chairs, these suspended ropes form a harness around the window cleaner so he or she can confidently focus on cleaning without worrying about an accidental fall. Straps cross over the lap, back, and chest of the wearer. These chairs sometimes include a small bench to serve as the seat, but can also feature a canvas seating area. These tools are great for narrower buildings which do not require multiple team members to work on each level. Many people compare bosun's chairs to harnesses which are used for rock climbing.
Safety Signs and Cones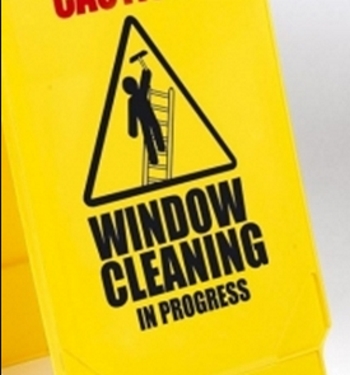 We take safety very seriously at Innovative Window Cleaning, which has allowed us to keep a completely clean, accident-free record. We only hire trained, professional window cleaners who have had experience in the industry, and then we ensure they keep up with OSHA safety standards with all the equipment they use. To add another layer of safety, every crew has a set of safety signs and cones which are set around their workspace every day to warn passers-by that men are at work inside or outside your building.
Cleaning Accessories

Our team is ready for any challenging situations your facility may contain! Every crew member carries some standard accessories in case of unexpected issues. They carry these accessories in holster belts, which include special pouches to keep everything secure.
Brushes can clean off your screens, hard-to-reach cracks, and the tracks which allow your windows to slide open and shut. We can even use hogs hair brushes designed for special circumstances, like windows in post-construction zones.
Towels help us clean the interior of windows without streaking. The towels we use are lint-free, so we won't add dust to your windows as we wipe, and they are extremely absorbent to work with highly detailed designs.
Scrubbers like steel and bronze wool are tougher than towels, but never leave scratches on your windows.
Scraper blades are used to clean off stuck-on dirt and insects that scrubbers have left behind.
Sponges are sometimes preferred over towels because they absorb water quickly and dry out quickly. They also squish down to perfectly fit the shape of corners and cracks.
Squeegees help dry large, flat windows which do not have intricate designs. They cover a large area quickly. When working with especially dirty glass, a team member may slide on a sleeve around the squeegee head to more aggressively rub off dirt.
Do you have questions about the specific equipment we'll use for your facility? Schedule a free on-site pricing estimate today, and we'll make sure you feel confident in your upcoming window cleaning service.
Follow Us: 
Share: