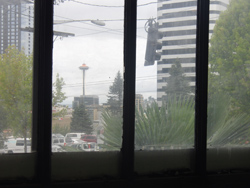 Why do high-rise office windows need to be cleaned? No one enjoys wearing glasses that are dirty because they are unable to see clearly. The same is true for windows in office buildings. A dirty office window makes it difficult for employees to work effectively. Each time employees glance through the window, they focus on the dirt and grime, not the scene outdoors.
Studies show that every fifteen minutes office workers need to take their eyes away from their computer screens and focus on a distant object to avoid work-related injuries. A dirty office window hampers this effort. Cleaner windows also result in better energy efficiency and lower overhead costs. A clean window allows in more natural light. Quite simply, employees use less electricity when they can see properly. Luckily, Innovative Window Cleaning offers fast, cost-effective window cleaning for a variety of different office window configurations in all types of high-rise buildings.
Our employees are trained to clean your corporation windows in the safest way possible to perfection, being careful to follow all local building safety code requirements. When they arrive, our window cleaners will inspect the building site, confirm the price, and advise you exactly how they plan to execute the job, and answer any questions you might have to ensure your complete satisfaction. Please contact us for a free estimate.
Follow Us: 
Share: