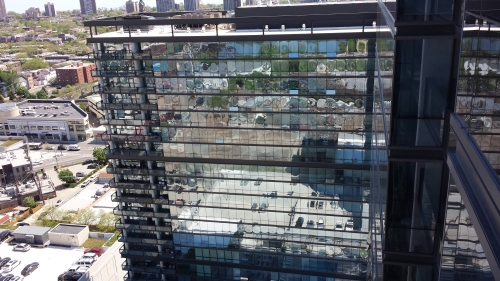 Innovative Window Cleaning, located in Chicago, Illinois, has proven to be a strong leader and successful incorporating into the commercial window cleaning industry and providing excellent service to corporate clients in Chicago and the surrounding suburbs. Now you can save time and money with quality results that far exceed what you are getting from traditional window cleaning companies.
There is a major difference between window cleaning companies when it comes to window cleaning. We offer outstanding commercial window cleaning services in Chicago and the surrounding areas.
Innovative Window Cleaning is comprised of window washers who have worked for the largest companies in the United States, combined into an organization that has successfully exceeded the customer's expectations again and again. We invite you to contact us for an estimate and discover just how much we can do for you today.
Your Best Value In The Chicago Area
What makes Innovative Window Cleaning the best value and smart choice in the Chicago and suburban Illinois area? Our quality work and reputation! We clean windows for some of the largest buildings, event centers, and schools in the area. We are the go-to company for several commercial buildings across Northern Illinois, but don't take our word for it, try us today and see for yourself! For many corporations and small business, we are the preferred choice for commercial window cleaning services in Chicago, Illinois.
Under A Contract?
If you are under a contract with another window cleaning company and tired of paying too much for work that is probably less quality than ours, that's okay! You can still contact us today and get an estimate to see how much you can save when your current contract expires. With our guaranteed competitive pricing you'll know your company's upcoming budget beforehand, with no surprises.

Satisfaction Guaranteed
We want you to be completely satisfied with our window cleaning services, but if for any reason you are not happy with how clean, bright, and fresh your building feels after your windows are cleaned, or feel any of our window washers have not been professional, we will correct the issue immediately.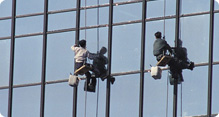 You will take comfort in knowing our window cleaners are safety trained, experienced, and available when you need them. Other companies in our service area hire off the street, we only hire those who have extensive experience and understand the importance of safety.
Innovative Window Cleaning has achieved great success thanks to our dedicated, professional staff. Customer satisfaction is our number one priority and quality is job one.
Window Cleaning is an art of a different nature. A job that requires fine workmanship and skill. Any window washing company can clean windows but it's not just about soap & water, it's the way the worker applies it and removes it.  A streak free and clear as a blue sky look should be the end result. If that's not the service you're getting, contact us today and get more than what you pay for every time.
We Guarantee It!
Follow Us:  Share: