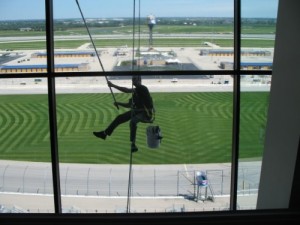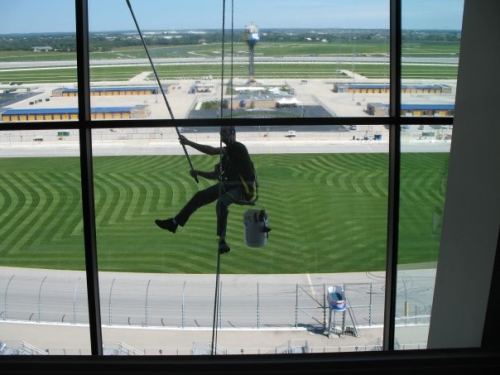 We've always been fascinated with risky jobs, but there are few in the world more insane to anyone with a fear of heights than a high-rise window cleaner! There is no amount of money you could pay us to rappel off of a giant glass building. Thankfully for people who live and work in those buildings, there are workers with the balls to do it like us!
The biggest misconception is that the window cleaning industry is full of unskilled workers and it's an easy job. These guys dedicate their lives to this profession and truly possess a skill that not just everyone can do. It takes a real unique type of person to do what we do, someone who cares about the well-being of everyone on the crew, someone who is passionate, and someone who can think quickly to overcome any obstacles or challenges that may be set forth on any given day. Those that are in this industry know the time and skill needed to do the job right the first time — without any accidents. Many people think we are renegades with a death wish. Not true. We all want to go home to our families at night.
As a professional window cleaner you would work on domestic and commercial premises, cleaning windows, doors and other glass surfaces. You may use a ladder to reach the first floor of a building or use water-fed poles, or work from a safety cradle, moving up and down the outside of the building. If you've got a head for heights and like working outdoors, there could be opportunities for you in this career.
You will need to be able to work quickly and efficiently, and have a good awareness of health and safety. A good level of fitness will help you manage the physical side of the job.
Job Title: Experienced Window Cleaner
Education: Not Applicable
Career Level: Experienced (Non-Manager)
Category Services: Maintenance
Employment Status: Hourly
Travel Required: None
Shift Type: Rotating
Job Description:
Interior and exterior window and glass cleaning both at ground level and above ground levels.
Depending on your job, your duties could include:
Cleaning glass and windows using appropriate techniques, equipment and cleaning products.
Using ladders to clean lower windows.
Cleaning windows on high buildings.
Follow Us:  Share: