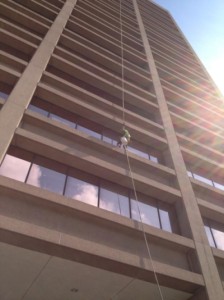 Innovative Window Cleaning can handle your entire commercial window washing needs. We provide competitive priced solutions to your high maintenance costs with our professional window cleaning services. We specialize in commercial window cleaning in Chicago and the surrounding Suburbs. We find more commercial building owners and managers are turning to Innovative Window Cleaning to lower expensive maintenance costs.
First impressions matter when it comes to business. This is why it is so important to keep your buildings windows clean, especially if they are display windows. You can do a lot by having your employees keep finger prints off the door, but to truly get the sparkle and clarity that impresses, you need to turn to our professional window cleaning service.
We offer our professional services to large to small enterprises, corporations, executive suites, banks, schools, stadiums, public arenas, office centers, service centers, and hospitals and large institutions. Our service is prompt and reliable and we guarantee your satisfaction.
We are a small company comprised of responsible employees and management with extensive experience in the window cleaning industry, offering drug-free workers and a high level of service and expertise.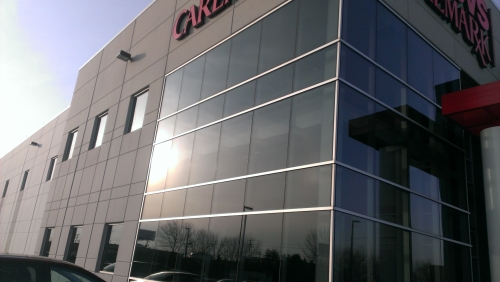 Our expertise is making your windows shine, and we do it better. If you are in the Chicago or surrounding suburban area and you have had enough of the 'Handyman Service' you have been getting and want a real window cleaning company that's professional, courteous, and safe, offering top-notch results and focusing on your satisfaction only, contact us for an estimate.
We employ professionals that are trained and competent in all aspects of the IWCA/ANSI I-14.1-2001, the safety standards for our industry. All of our equipment is inspected and reaches above the standards. We do work on some of the most difficult buildings in Downtown Chicago (high-rise window cleaning, office window cleaning). If you have any question about your current window cleaning company's procedures then you need to call us!
Our experienced window cleaning professionals reach to all heights to ensure your building looks the way it should. Efflorescence build up is like Cancer to a building. We can remove this problem and seal cracks in your building so you don't have additional expenses due to expensive tuck pointing in the future. We use environmentally friendly products that not only give you peace of mind but will not damage the surrounding areas of the building. Don't let your clients see dirty windows in your office! Climbing to any height, we'll take care of your building most efficiently.
Our expert experience includes hi-rise buildings, tall skyscrapers, sporting venues, such as race tracks, event centers, venues, stadiums and arenas.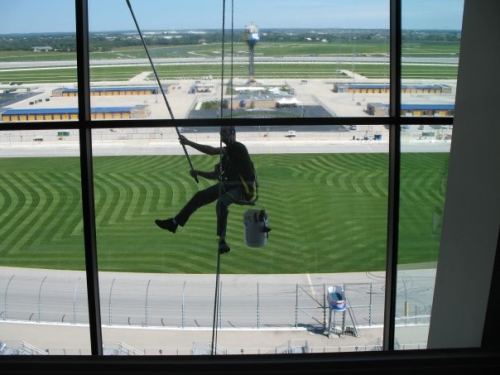 You can take advantage of these services based on your needs, we offer scheduled plans including:
Weekly services (52 weeks/year)
Bi-Weekly Services (26 weeks/year)
Monthly Services (12 times/year)
Quarterly Services (4 times/year)
Tri-Annually (3 times/year)
Bi-Annually (2 times/year)
Annually (once a year)
We also offer one-time scheduling, special requests, on-demand, and emergency service to all of Chicago and Suburbs.
We use several methods to achieve a high-quality result depending on the environment, the building and the client. We specialize in commercial ground/route work, pole-, ladder- and belt-work, suspended scaffolding and bosun's chairs. We also use several different sizes and classifications of lifts to get the job done. Let us solve your high-rise access issues. We can access any building size or height.
Please feel free to call, text, or email us at anytime or just click on this link if you have Skype 888-535-1440.
If we are unavailable, please leave a detailed message or use our contact form for Professional Window Cleaning Services.
Proud members of:
You are cordially invited to share your opinions with us. We encourage you to participate in this important survey helping us measure our customer satisfaction levels. We will be gaining your thoughts and opinions to help serve you better in the future. Press the button below to begin. All of your answers and personal information are held in the strictest of confidence and is not shared or sold to anyone.

Comments or questions are welcome.
Follow Us:  Share: